Graduate Career Management
87% of these alumni were employed within 6 months of graduating
THE EMPLOYMENT RATE IS DETERMINED BY DIVIDING THE NUMBER OF GRADUATES WHO REPORTED BEING EMPLOYED OR WHO LIM COLLEGE WAS ABLE TO DETERMINE WERE EMPLOYED INTO THE NUMBER OF GRADUATES WHO PARTICIPATED IN THE POST-GRADUATION EMPLOYMENT SURVEY. THOSE INITIALLY REPORTING UNEMPLOYMENT AT SIX MONTHS WILL BE RESURVEYED AT 12 MONTHS. REFER TO OUR COLLECTION DISSEMINATION OF CAREER OUTCOMES DATA FOR MORE INFORMATION.
Master's Degree Programs Post-Graduation Employment Rate
90% of LIM College's Class of 2017 who were eligible to work in the U.S. and sought employment after graduation secured positions throughout the fashion and related industries.
Source: LIM College Career Outcomes survey (Dec. 2017), communication with graduates via email and phone, and LIM College research on professional networking sites. Survey knowledge rate was 88%, representing 149 of 169 graduates.
Great Networking Opportunities
An international MPS graduate explains how LIM College supports students in building their professional networks.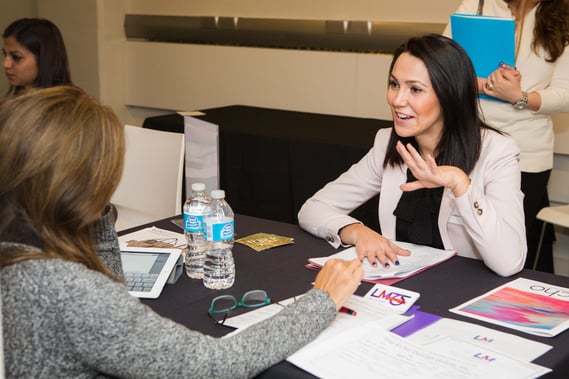 CAREER MANAGEMENT
Our mission is to help graduate students develop their career goals. The Department of Experiential Education & Career Management gives you guidance and resources ranging from interview tips and resume writing to job boards and one-on-one career counseling. Take control of your fashion career from day one at LIM College. View a complete list of career management services to get started today.
Where do our graduates work?
Those who received their master's degrees from LIM College in 2017 work for over 100 companies throughout the fashion and related industries. Here are just some of the places where these dynamic professionals are advancing their careers.
Saks Fifth Avenue
Bloomingdale's
Ogilvy & Mather
Coach
Hearst International
Ralph Lauren
Macy's
Nordstrom
Elle Magazine