Success in the fashion industry requires more than just designing and manufacturing quality apparel and accessories. Fashion marketing connects products with customers and is critical to the business of fashion. A specific aspect of fashion marketing, visual merchandising, centers around the placement and presentation of products, often in retail stores.
What is Visual Studies in Fashion?
Mannequins, window installations, and wall displays are all examples of ways visual merchandising is used to get a customer's attention and guide their purchase decisions. If you've ever walked past or inside a retail store, then you have seen visual merchandising at work. So what is visual studies? While a person in visual studies may wear multiple hats, the general definition of visual merchandising is a marketing technique that employs the use of floor plans and three-dimensional displays to entice customers, project a positive store image, and maximize sales.
Visual merchandising begins on the outside of the store, often with attractive window displays, to entice the customer to come inside. Visual marketing in the store, such as interactive displays or seasonal decor, can be used to set a mood and introduce customers to new or featured products. The visual merchandiser will also consider in-store traffic flow patterns to identify the optimal placement of displays and new products.
What Does A Visual Merchandiser Do?
By definition, a visual merchandiser in fashion oversees and coordinates the display exhibits and decor in a retail store. This begins by deciding on a theme for the store and then evoking that concept visually through design techniques.
A visual merchandiser may choose a color theme, tell a story, present a lifestyle, or evoke a particular emotion. Corporate messaging and product branding will also be taken into account. The visual merchandiser will then execute their strategy, relying on their knowledge of fashion marketing and design theory.
What does a visual merchandiser do? A visual merchandiser may develop and manage:
Window installations
Shelving layouts
Interactive displays
In-store displays
Point-of-sale displays
Mannequin styling
Graphic design and placement
Seasonal decorations
How to Become a Visual Merchandiser
The best way to start on the path to a career in this field is by earning a degree in visual studies or a related field. Employers will expect applicants to have experience in design theory and be savvy in retail business practices. A degree in visual studies will equip you with the skills required for success on the job. In a visual studies program you'll learn a range of skills specific to this profession, such as designing store layouts, conducting market research, and budgeting display creation, readying you for becoming a visual merchandiser.
Employers may hire a visual merchandiser without this education, but a visual studies degree means you have the most directly-applicable preparation for being a successful visual merchandiser. Additionally, all courses at LIM College mix class studies with hands-on experience to provide real-life exposure.
Who is a Good Fit for Becoming a Visual Merchandiser?
Visual merchandising calls for a hands-on, creative person. If you're innovative,design-oriented, and thrilled at the possibility of making a store look amazing, visual studies might be right for you. This is an attractive career to many because it unites an eye for design and style with business strategy. In addition to being creative and business-minded, visual merchandisers and visual merchandising managers must also stay aware of current fashion trends and customer preferences.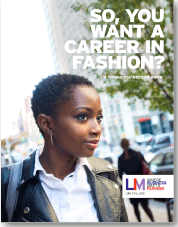 Learn the


5 steps to a successful career in fashion
A love for fashion is only the beginning. Learn about the 5 practical things you should know about having a successful career in the fashion industry. Take the first step and download the free guide.
Loading...
Sample Coursework for Visual Studies
Below are some of the required courses to receive a visual studies degree from LIM College:
Introduction to the Fashion Business
Color and Design
Display Graphics
Visual Presentation
Store Design
Product Presentation
Visual Merchandising: History, Theory and Practice
Applied Concepts in Merchandising
Finance
Visual Studies Programs at LIM College
Interested in starting your journey to becoming a visual merchandiser? LIM College offers a specialized visual studies degree program that will give you a competitive edge in the professional world.
Undergraduate Programs
Bachelor of Business Administration (BBA) / 4-Year Degree
The Bachelor of Business Administration (BBA) Visual Studies degree program provides an in-depth analysis of the retail store environment. You're introduced to the principles, philosophies and technologies of visual studies through first-hand exploration and hands-on classroom experimentation.
Ready to Get Started?
Contact LIM admissions for more info or learn more about Life at LIM.
More About Visual Studies
Continue to explore this industry and learn more about your career in the business of fashion.