Fashion Merchandising Industry Overview
When most people think about the fashion industry they immediately think of fashion design. Yet there's so much more that needs to happen for the latest designs to get out into the world and into the hands of the customers who will wear them. In addition to being designed, clothing items need to make it into a retail store, they need to be displayed and marketed to customers, and they need to be properly stocked as items are sold. This is the business side of fashion - and this growing industry is generally termed fashion merchandising.
What is Fashion Merchandising?
Fashion merchandising is the strategic analysis, marketing, management, and distribution of fashion products in order to maximize profits. Fashion merchandisers stay acutely aware of past and present fashion trends to project what consumers will want in the future.
Fashion merchandising is a dynamic and exciting field. Merchandisers are not fashion designers, but they stay close to the fashion world and use their fashion sense and analytical minds to determine how much of each style to stock, negotiate with manufacturers, and work with designers to determine emerging or existing trends. In a way, you could say fashion merchandisers buy clothes for a living but the job is much more challenging and rewarding than that would make it sound.
What Does A Fashion Merchandiser Do?
Fashion merchandising is a broad term. Typically a fashion merchandiser will have several potential areas of focus and is used to juggling different responsibilities. The role requires a strong sense of style and fashion in addition to business acumen. Here are a few key responsibilities of a fashion merchandiser.
Fashion Trend Analysis and Forecasting

To successfully manage the profitability of a retail store you have to be in tune with fashion trends to know what will sell. To do this fashion merchandisers keep up with the latest fashion news, attend fashion shows, and communicate regularly with fashion designers. Fashion merchandisers are able to blend fashion sense with quantitative analysis to look at how products have performed in the past and forecast consumer demand for coming seasons.

Buying and Pricing Merchandise

Knowledge of fashion and trend analysis is used to decide how to stock retail stores. This includes which new styles to order, which items to reorder, quantity of items, and the colors and sizes to stock. The fashion merchandiser works within a budget and has to make sure stores can be properly stocked within that budget. Part of this process is buying and negotiating with manufacturers and designers to make sure items can be priced in a way that will sell and make a profit. If responsible for multiple retail stores, fashion merchandisers also need to determine how each store should be stocked since different stores likely have a different surrounding clientele with different tastes.

Marketing and Promotion

In many cases fashion merchandisers are also responsible for drawing in customers via promotion of products. That requires marketing skills and a keen understanding of local customer demographics. To get their products out to the world and draw in consumers, fashion merchandisers may develop marketing campaigns, design store displays, and create sales strategies.
How to Become a Fashion Merchandiser
To become a fashion merchandiser, a bachelor degree in the field is usually required for entry level work. LIM offers undergraduate degrees in fashion merchandising as well as associate's degree, and a masters in fashion merchandising. In most cases, hands on experience or internships are key since real world experience makes for a more attractive candidate. All courses at LIM College include a mix of in class studies and hands-on training.
Who is a Good Fit?
As mentioned, fashion merchandising requires both fashion sense and business acumen. Fashion merchandisers will be challenged to use their knowledge of fashion trends to come to hard numbers that will determine the success of retail stores, so candidates for this career should be prepared to use both quantitative and qualitative skills. Good fashion merchandisers are creative, up for a challenge, and unafraid to work in a fast paced-environment. As we say at LIM College, this career is where business meets fashion. If you have a passion for fashion and an appetite for business, this career could be your dream job.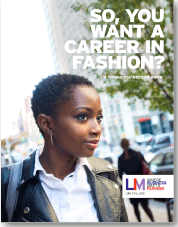 Learn the


5 steps to a successful career in fashion
A love for fashion is only the beginning. Learn about the 5 practical things you should know about having a sucessful career in the fashion industry. Take the first step and download the free guide.
Sample Coursework
Here are a few of the courses that are part of a fashion merchandising degree at LIM College
Introduction to the Fashion Business
Advanced Buying & Planning
Buying & Merchandise Math
Fashion Forecasting
Fashion History & Global Attire
Fashion Show Production
Global Retailing
Omnichannel Retailing
Product Development & Merchandising
Street Style
Retail Merchandise Management
Fashion Branding & Promotion
Fashion Merchandising Degrees at LIM College
Interested in starting down the path to a career in fashion merchandising? LIM College offers several fashion merchandising programs, each designed to fit your goals, schedule, and experience level.
Undergraduate Programs
Bachelor of Business Administration (BBA) / 4 Year Degree
The BBA program at LIM College provides a foundation of core courses in liberal arts and business. This degree serves as the perfect gateway to graduate studies.
Bachelor of Professional Studies (BPS) / 4 Year Degree
The BPS program at LIM College provides a focused approach to preparing you for a career in fashion with many professional courses.
The Associate in Applied Science (AAS) *Offered Online / 2 Year Degree
The Associate in Applied Science (AAS) program in Fashion Merchandising & Management program will provide you with a foundation to begin— or continue— a career in  fashion or enter a bachelor's degree program.
Associate in Occupational Studies (AOS) / 2 Year Degree
The AOS program at LIM College is an intensive academic program that prepares you to jump into your career immediately.
See All Undergraduate Degrees
Graduate Programs
Master's in Fashion Merchandising & Retail Management (MPS) *Offered Online
With a Master of Professional Studies (MPS) from LIM College, you gain a competitive advantage in today's retail, apparel, and merchandising markets.
See All Master's Programs