Visual Studies Salary Guide
You may be interested in visual studies based on its day-to-day responsibilities, but you might also be wondering what your earning potential will be right after you graduate as well as over the course of your career. Questions such as What is the average visual studies salary? and How much does a visual merchandiser make? are answered below.
How Much Does a Visual Merchandiser Make?
Visual merchandisers and visual merchandising managers makes an average of $35,553 per year, based on salaries pulled from three separate third party websites. When considering salary averages, keep in mind that your specific earning potential will depend on a range of factors. Years of experience, education, job title, location, and company specifics will all play into your earning power. By examining salary data, you will be better prepared when planning your career path and negotiating salary with employers. Be sure to return to this page, since it will be updated regularly with applicable salary data.
Visual Merchandising Average Salary
Four salary websites - Glassdoor, PayScale.com, Indeed.com, and Salary.com - put the average salary of a visual merchandiser somewhere in the $30,000 range. This is average for a visual merchandiser, although a degree in this field will also prepare for other jobs relating to fashion marketing and merchandising management.
Average Salaries for "Visual Merchandiser" Job Title
| Title | Salary |
| --- | --- |
| | $35,544/yr |
| | $41,110/yr |
| | $30,006/yr |
| Average | $35,553/yr |
Related Visual Studies Job Titles and Salaries
Below is salary information for other professions related to visual studies.
Average Salaries for Related Job Titles
| Title | Glassdoor | Indeed | Payscale |
| --- | --- | --- | --- |
| Store Planner | | | |
| Merchandising Planner | | - | |
| Retail Visual Merchandiser | | | |
Visual Merchandising Salary Ranges
We have pulled the low and high end of salaries for visual merchandisers and visual merchandising managers from several sources. The low end of this range should not be taken as a definitive indication of what your starting salary will be. Education, internship performance, and other types of hands-on experience may translate into  higher wages when you enter the job market.
Visual Merchandising Salary Ranges
| Source | Salary Low | Salary High |
| --- | --- | --- |
| | $24,000/yr | $76,000/yr |
| | $29,279/yr | $64,784/yr |
| Average | $26,640/yr | $70,392/yr |
Visual Merchandising Salary in New York City
The geographical area you're in will affect how much you can expect to earn in the retail fashion industry, and nowhere is this more true than in New York City. As the nation's fashion center, New York City attracts top fashion talent and enthusiastic visual merchandising job applicants every year. For these reasons and others, NYC salaries tend to be higher than the national average. Here's a comparison of NYC vs. national average salaries, according to third-party websites.
| Location | Glassdoor | Indeed | Payscale |
| --- | --- | --- | --- |
| NYC | | | |
| National Average | | | |
Visual Merchandising Salary Averages of LIM Graduates
Now that you've seen some of the national averages and third-party stats, we also have some salary information from recent LIM graduates. We surveyed our 2016 graduates on their employment rates, job titles, and salaries.
Undergraduate Visual Merchandising (Class of 2016)
Visual Merchandising
Mean Salary: $30,000 - $35,000 (6 months following graduation)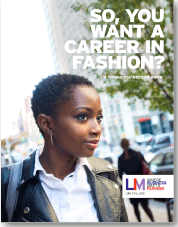 Learn the


5 steps to a successful career in fashion
A love for fashion is only the beginning. Learn about the 5 practical things you should know about having a successful career in the fashion industry. Take the first step and download the free guide.
Loading...
Visual Studies Degrees at LIM College
Interested in pursuing visual studies? LIM College offers specialized visual studies programs, each designed to fit your goals, schedule, and experience level.
Undergraduate Programs
Bachelor of Business Administration (BBA) / 4 Year Degree
The Bachelor of Business Administration (BBA) Visual Studies degree program provides an in-depth analysis of the retail store environment. You're introduced to the principles, philosophies and technologies of visual studies through first-hand exploration and hands-on classroom experimentation.
Ready to Get Started?
Contact LIM admissions for more info or learn more about Life at LIM.
More About Visual Studies
Continue to explore this industry and learn more about your career in the business of fashion.