Fashion Marketing Salary Guide
Thinking about a career in fashion marketing? You're probably also wondering what your earning potential might be in this field. The questions what is the average fashion marketing salary? and how much does a fashion marketer make? are answered here.
How Much Does a Fashion Marketer Make?
To answer your fashion marketing salary questions, we've compiled data from several trusted third party sources and we also include some LIM-specific salary information from a survey of our 2016 graduating class. Fashion marketing salary averages vary depending on things such as experience, company size, location, and duties. It can be difficult to pinpoint marketers in the fashion industry in particular, since marketing positions and marketing salary data points aren't typically fashion-specific. That said, we've done our best to give you a broad view of the salary possibilities as you consider your future in this field. Check back, since we will update this guide as new or more accurate information is available.
Fashion Marketing Salary Averages
Fashion marketing isn't typically a title, so we can't give national salary averages that are specific to the fashion industry. However, we can give salary averages for several job titles that would be relevant to a graduate with a fashion marketing degree. Below you'll see a compilation of a few different marketing titles and the average salaries reported by third party sources.
Average Salaries for Fashion Marketing Job Titles
| Title | Glassdoor | Indeed | Payscale | Average |
| --- | --- | --- | --- | --- |
| Brand Manager | | | | $84,282/yr |
| Marketing Manager | | | | $73,722/yr |
| Marketing Analyst | | | | $61,349/yr |
| Marketing Coordinator | | | | $45,354/yr |
Fashion Marketing Salary Ranges
To give you an idea of the high and low salaries in this industry, you can see the salary ranges noted by third party sources for the title "Marketing Manager." Keep in mind that these averages include marketing jobs outside of the fashion industry, but they are still useful to get an idea of your earning potential in a Fashion Marketing Manager position.  
Marketing Manager Salary Ranges
| Source | Salary Low | Salary High |
| --- | --- | --- |
| | $60,000/yr | $121,000/yr |
| | $41,114/yr | $97,633/yr |
| | $17,000/yr* | $164,000/yr |
| Average | $39,371/yr | $127,544/yr |
*Indeed.com shows an unusually low for Marketing Managers. Note that Indeed does show this salary to be a very low percentage of people holding this title, but we think it's unlikely that a Marketing Manager position would be this low.
Fashion Marketing Salary in New York City & Los Angeles
Salaries vary depending on where you're employed. For example, Marketing Manager salaries in New York City are typically higher since NYC is a major fashion and advertising hub. Los Angeles is another popular area for fashion and marketing alike. Below you can find NYC and Los Angeles salaries from the third party tools that allow location-specific searches. Again, this is for a Marketing Manager position.
| Location | Glassdoor | Indeed | Payscale |
| --- | --- | --- | --- |
| NYC | | | |
| Los Angeles | | | |
| National Average | | | |
Fashion Marketing Salary Averages of LIM Graduates
You've seen some of the national averages and third party stats and we have some salary information of our own from recent LIM graduates. We surveyed our 2016 graduates on information such as employment rates, job titles, and salaries. For those who answered, you can see the stats below.
Undergraduate Fashion Marketing (Class of 2016)
Fashion Marketing
Mean Salary: $35,000 - $40,000 (6 months following graduation)
Graduate Fashion Marketing (Class of 2016)
Mean Salary: $38,750; high of $59,999
Salaries with a Fashion Marketing Degree
See below for details of average salaries specific to students who graduated with a fashion marketing degree from LIM College.
| Program | Respondents | Mean | Median | High |
| --- | --- | --- | --- | --- |
| MPS in Fashion Marketing | 9 | $38,750/yr | $36,250/yr | $59,999/yr |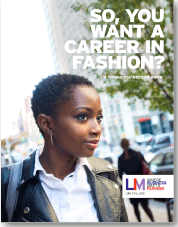 Learn the


5 steps to a successful career in fashion
A love for fashion is only the beginning. Learn about the 5 practical things you should know about having a successful career in the fashion industry. Take the first step and download the free guide.
Loading...
Marketing and Fashion Marketing Degrees at LIM College
Interested in pursuing fashion marketing? LIM College offers two marketing / fashion marketing programs, each designed to fit your goals and experience level.
Undergraduate Programs
Bachelor of Business Administration in Marketing (BBA) / 4 Year Degree
Through courses in advertising, brand management, public relations, direct marketing and more, you'll learn how to understand consumers, identify their desires and meet their demands. You will graduate with a marketing degree that will prepare you for success in highly-competitive, fashion-driven fields.
Graduate Programs
Master of Professional Studies in Fashion Marketing (MPS) *Offered Online & On Campus
LIM's Master of Professional Studies (MPS) program in Fashion Marketing will give you practical knowledge to advance your career as you learn to build brands, identify global trends, and influence ever-savvier and digitally connected consumers.
Ready to Get Started?
Contact LIM admissions for more info or learn more about Life at LIM.
More About Fashion Marketing
Continue to explore this industry and learn more about your career in the business of fashion.